Covim Spa is a historic Italian roasting company located in Genoa, the city of Christopher Columbus. Its history spans decades and is a reference both for the Italian large-scale retail trade and for roasters throughout the country, having always been one of the largest importers of raw materials. The experience in the roasting profession has led Covim to be present in all markets, from Italian bars to coffee machines in offices throughout Italy, from north to south, indiscriminately. Precisely for this capacity, it has approached the advent of single-portion on the national and international market in the most competent and professional way possible.
Covim understood, first of all, that the capsule market had the criticality of environmental sustainability, and for several years it has set up a series of collaborations with international multinationals, as well as producers of compostable plastic and aluminum for the creation of a high-quality assortment. With a quality capable of not causing a qualitative downgrade to the product without traditional plastic. Today Covim is the most effective partner of the national mass retail market both in traditional plastic capsules and in the production of compostable products for the creation of private label brands. Its experience and its attention to quality are the best guarantee for the satisfaction of the final consumer's needs and environmental sustainability.
WATCH THE PARTICIPATION OF LUCA SOLARI
(Chief Commercial Officer – Covim Coffee)
Covim is a Private Label project partner of the leading Italian brands and the most important multinationals of the mass market retail present in Italy. Furthermore, through its Export office, it is present in over 50 countries worldwide, both in the HoReCa market and in the mass retail market.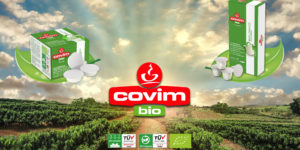 The company has well-defined objectives for the future, a historical update of the branding policies is underway, aimed at the link with the territory to which it belongs, in Genoa, and at their history, this of traditional coffee importers, also through relevant investments in television advertising at a national level.
TELEVISION ADVERTISING
Numerous investments are also underway within the production departments aimed at improving quality and service. Last December, a new green coffee storage silos and new machinery were inaugurated, able to allow the company to import and cleaning the green coffee in total autonomy. This optimization will result in better control of the product quality during the main stages of processing. In addition, Covim Caffè is also involved in the construction of an additional fully automated goods storage warehouse, in order to allow for a significant increase in efficiency.
REWATCH THE WORKSHOP