Among the largest European economies, Italy has the highest percentage of FMCGs on promotion, reaching 31% in the 4 weeks ending October 4 – the highest level in 2020, almost as high as the record recorded last year during the Christmas period, when promotional sales had reached 32%. Despite recent fluctuations, the annual average of promotional sales in Italy stands at 28%, and is 10 p.p. higher than in Europe.
The most promoted categories in Italy (percentage of promotional sales) are the following:
Home care (36.3%, -3.9 p.p.)
Alcoholic beverages (32%, -1.7 p.p.)
Paper products (31.5%, -3.5 p.p.)
Non-alcoholic beverages (29.3%, -2.3 p.p.)
Frozen foods (29.2%, -2.2 p.p.)
In Europe, the percentage of FMCGs sold on promotion reached 18.2% during the 4 weeks ending October 4, 2020 – the highest level recorded in the whole of 2020, and the second of the last 52 weeks (year), just after the period before the Christmas holidays.
This is what emerges, among other things, from the data analyzed by Nielsen's Intelligence Analytics business unit.
Although promotional sales have recently increased, the annual average in Europe remains lower than last year: in France it reached 18.9% in the 52 weeks ending October 4 (vs. 20.3% last year), in Germany 22.3% (vs. 23% last year), in Italy 28.2% (vs. 30.6% last year), in Spain 15.8% (vs. 16.8% last year), and in England 21.9% (vs. 25.4% last year).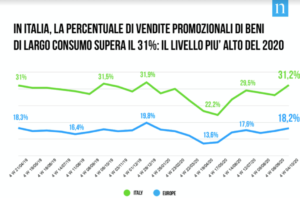 "Promotional pressure reached very low levels during the second quarter of 2020, when consumers were buying essential goods without paying special attention to promotions. Eight months after this new reality we are living in, however, the situation has changed: even a small percentage discount may seem a bargain in the eyes of consumers who are more insecure about the future state of their finances. In the last 52 weeks, FMCG products sold on promotion have totalled 90 billion euros, 1.5 billion more than last year.
There is also a good chance that consumers will be pushed to take advantage of Black Friday and Cyber Monday to buy food and non-food products in view of new lockdowns and possible future economic constraints. The reasons can be many different: the need to save money, the opportunity to take advantage of lower prices to buy gifts, the desire to escape reality and find substitutes for out-of-home experiences," says Anne Haine, head of Nielsen's Intelligent Analytics business unit in Europe.
The recent spike in discounted products could be an indicator of growing consumer interest in promotional purchases, for which Black Friday and Cyber Monday are the perfect solution. On average, Nielsen estimates that a 10% discount can translate into a 20% increase in volume sales – one of the highest benchmarks in Western Europe, and a great opportunity for retailers. And as promotional pressure returns to pre-covid levels, new opportunities are created for categories that suffered from low promotion earlier this year; especially in view of the big discounts Black Friday has to offer.
With the progressive increase of restrictive measures in Italy, which sees some of the regions already in lockdown, the situation could change, however, leading to a new drop in promotional pressure. The next few weeks will therefore be crucial to shed new light on promotional sales.