Companies producing frozen food in Italy, especially those whose core business is pizzas, recipe products (especially pasta dishes), and in general products directly derived from Made in Italy, in the broad sense of the term, have great growth potential in the field of export to foreign countries.
This emerges from the studies that are being carried out within the Cibus Lab project, and from the publication of a GDONews e-book on the category available from 26th October, which will be sent free of charge to all buyers of the Italian large-scale retail trade. Moreover, after being translated into English, it will be sent to all the international managers of retail, fast food and importers present in the Cibus mailing list, and finally, on November 10th, a webinar will be held, with the presence of international buyers and Italian producers, where it will focus on this evidence: exports are growing dramatically and what characterizes the Italian offer is, once again, the made in Italy.
There are, however, some critical points that are worth highlighting and which will be explored in more detail in the manual.
The first is the lack of receptivity of the Italian large scale distribution towards some segments of the category that, instead, have a high potential of interest abroad. It is sufficient to quote the data relative to the sales in large scale distribution of the first two subcategories, after. obviously, ice cream: natural vegetables and fruit and fish are the first two categories with an incidence of 48% of total sales.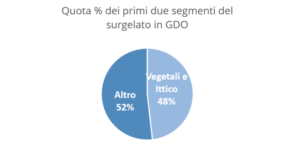 In both segments, the market leader is CSI, a foreign multinational company, which builds a perfectly transversal assortment for all consumers in the world, and which has very little to do with made in Italy.
On the other hand, however, the problem is also the lack of appeal of made in Italy frozen food: Italians, especially in the south, do not intend to consume frozen products that are not vegetables or fish and much less if they are a direct derivation of the Italian tradition.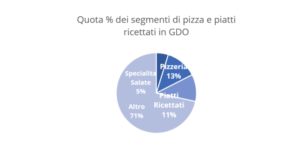 Engineer Vittorio Gagliardi, President of the Italian Institute of Frozen Food, explains it clearly: "Countries like Italy, France, Spain or Greece all have one positive thing in common: they enjoy fantastic raw materials, easily accessible and all this does not happen in other countries, especially in northern Europe".
Confirming this is a fact above all: frozen pizza, which in Italy has a good turnover, equal to more than 13% of the total of the frozen category, in the south of Italy expresses only 9% of the total sales in Italy, while the recipe dishes (more than 11% of sales) only 10% of the total large scale distribution in Italy.
What does this data tell us?
That the national market has only recently approached the consumption of frozen products, an expression of the true Made in Italy which, in the case in point, is represented by frozen pizzas, recipe dishes and, to a lesser extent, salted regional specialties, while the rotations of products in the subcategories such as vegetables and fish are enormously superior.
The potential market abroad is, on the other hand, very important and, unfortunately for us, well exploited by foreign multinationals: in Europe, the market leader for frozen pizzas is a German producer, Dr. Oetker (Cameo in Italy), which has a turnover of over 11 billion euros and is present in 25 countries worldwide, often thanks to the acquisitions of local companies. The Nordic countries are generally large consumers of frozen products and, coincidentally, great admirers of made in Italy products.
The United States, whose per capita consumption of frozen products is over 50 kg compared to 14 kg in Italy, is an inaccessible country for all meat products but, in recent times, 4 Italian companies have been authorized to export frozen pizzas with the presence of meat.
The market leader for frozen foods in the USA is the multinational Nestlè, followed by Schwan's Company and General Mills Inc.; McCain Foods, i.e. Dr. Oetker, based in Canada, has a turnover of over 6 billion dollars. In the United States, the frozen pizza market is worth about 5.5 billion dollars, 20 times that of Italy.
Italian companies have been approaching this huge market for some years now and the growth margins are expected to be enormous, not only for frozen pizzas, but also for Italian recipe dishes and regional specialties.
In Europe, where, of course, legislation is not a hindrance, the growth expectations are not different: the northern countries, and also France, are excellent consumers of frozen products and even in these markets the growth margins are really important.
Last consideration: when we talk about the evolution of exports and consumption habits regarding frozen products, we refer to sales of retailers who, in turn, target end consumers for their consumptions at home, but we forget to mention the very strong potential of the so-called "out of home" channel.
Specifically, restaurant franchising in northern European countries is a highly developed and prevalent business: in Italy, the turnover achieved by restaurant franchising chains is 5% of the total, in the USA it exceeds 50% and in northern European countries it is very high. In the United States, this market is called QSR (Quick Service Restaurant) and according to a report by Statista, it is worth between 250 and 300 billion dollars, in the UK the fast-food market is worth (source: MCA Insight) about 10 billion pounds. In short, these are areas of the market that today do not see the Italian made in Italy as a protagonist, but that could change in the immediate future.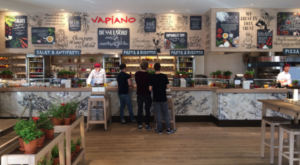 Consider that a German chain (based in Hamburg) of Italian-style restaurants, with Italian setting and Italian sounding food, named "Vapiano", is growing rapidly around the world, consists of over 500 stores, to demonstrate, if there was any doubt, that the made in Italy can, in all rights, occupy a space in that market.
It is a matter of combining demand with supply and letting the market take its evolutionary course.