The Cremonini Group, through INALCA, is a leader in Italy and one of the major European players in the beef sector. It is the greatest producer of hamburgers and is the largest Italian producer of canned meat.
Also, through the controlled company Italia Alimentari (born from the merger of Montana Alimentari and Ibis), it is among the first Italian operators in the sector of cold cuts & snacks. The company, through Inalca Food & Beverage, occupies a leadership position in the distribution of food products abroad, typical of the Made in Italy brand, with its own logistics platforms in different countries. In 2016, the group's production sector achieved total revenues of 1,760.7 million Euros.
The Gross Operating Margin (EBITDA-Earnings Before Interest, Taxes, Depreciation and Amortization) reached 119.1 million Euros, while the Operating Result (EBIT) was 66.4 million Euros. Ninety-two percent of the turnover comes from the production, processing and marketing of beef, while 8% from the production and processing of cured meats & snacks. Forty-three percent of INALCA's turnover is achieved abroad.
During the webinar hosted by Fiere di Parma Cibus, within the Cibus Lab project, Samuel Cecchi, Inalca's Sales Director Italy, explained the group's strategies.
Participation of  SAMUEL CECCHI (GDO Sales Director Inalca)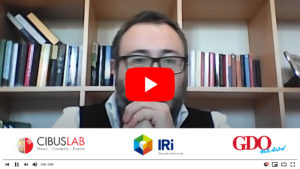 Inalca  explained Cecchi, invests on the Italian zootechny, and this continuous evolution is also determined thanks to the important contribution of the market and the large distribution that with its volumes allows these investments.
In a recent consumer survey, it emerged that 40% of those interviewed had a greater interest in what they consume, and are also attentive to how it is produced. This is one of the consequences of coronavirus, a change and an increase in the threshold of consumer attention.
Inalca has always been attentive to environmental sustainability, explained Samuel Cecchi, which means producing 100% of the energy of its industrial needs. Also, Inalca places more emphasis on the integrated supply chain which it has direct control of; hence, on the distinct production cycles which Inalca is also able to achieve sizeable economies.
Inalca is a large exporting company, but it is a very important player in the Italian market and in the mass retail market.
REVIEW THE WEBINAR